Bashabaloo … Bash + Hullabaloo = A Gift to Remember
OK so why Bashabaloo? It's no secret I have taken on several fun passion projects over the years, including this blog, but this is the first time I'm "taking things to the next level" and confidently betting on myself, doubling down and creating a thriving (fingers crossed) business. I've never done this before. But I'm all in 😉 And this is what I am certain I do best – creating items that make someone smile, with just a hint of surprise.
How to Open a Surprise Ball From Bashabaloo – Child's Birthday Gift, Favor or Party Game – For Boys or Girls from Bashabaloo on Vimeo.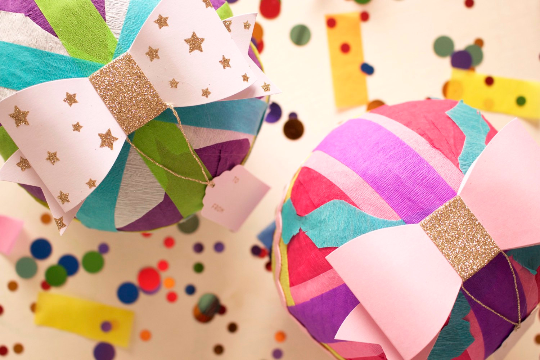 Since college I've been making small gifts for friends and family in the form crepe paper Surprise Balls. Back then, I'd included some sort of inside joke, trinkets and fun prizes based on my friends personalities. Making them was always fun – getting the shape just right, making sure each layer was a bright, cheerful with color, and packing an impressive amount fun in such small space often surprised myself – but the best part was watching people unravel the gift. The faces of shock, the laughter, the length of time it took to unwrap – the gratitude they had to receive a thoughtful handmade gift… It wasn't until I was a stay at home mom, planning events and gifting something to someone almost every weekend that that I knew we had something special. A business.
Then all I needed was a name, a brand, a place to sell, photos and if that wasn't enough to do- a product line. Sounds simple enough right? *LOL SMH* Keeping in mind my spirit, love of color and the stubbornness of a mule (ok mom, I admit it) Bashabaloo was born. My Surprise Balls went from a small idea to a brand that is slowly becoming a business. It's exciting and incredibly frightening but each step has been a learning experience. I now have the gifts available on Etsy and you can now treat your friends and family to one of my favorite creations!
This is what I refer to as "the ultimate birthday gift".
As each brightly colored layer of the ball is unwrapped, a surprise is revealed. With 12-15 cool toys, wearables or novelties from our Bashabaloo treasure chest in each ball, the Birthday boy, girl or party guests will stay busy and they'll have a blast. I try to customize each ball based on who the gift is meant for, but I always aim to include a "wow" factor. Whether you love puzzles, jewelry, bubbles, walking animal balloons, masks, sculpting clay, confetti or candy – anything is possible and no item is too big or too small.
The Extra Large Surprise Ball includes 20-25 gifts and prizes. For an extra special game for parties, I suggest you use the Surprise Ball as a Pass the Parcel Game. Kids sit in a circle and take turns unraveling their own taped off, brightly colored layer that includes a special surprise. Once their color runs out, they pass the ball to the next guest. We customize the ball based on your specifications, but usually the ball can make its rounds 3-4 times giving each guest something fun to take home.
These are some of my favorite to make because as a mom who is constantly planning parties for little ones, the ONE THING I ALWAYS FORGET are the party favors. The mini surprise balls have you covered. Each ball for either girl, boy, or gender neutral (depending on what you pick) has 6-8 gifts and is wrapped in our signature Bashabaloo style i.e. bright, fun wrapping and with a bow of course. These are some of the most fun because I can get creative, making your own tags, writing thank you notes in the center of the ball, or pairing it with the theme of your party.
Customized Balls for Bachelorette Parties, Bridal Showers Or Anything Else You Dream Up
Keeping in mind that each Surprise Ball is handmade, the element of thoughtfulness and love go into each creation. With that, I've made fun surprise balls for people of all ages including these occasions:
Bachelorette Parties (affectionately called "dirty balls")
Bridal shower gifts
Teacher appreciation gifts
Baby gender reveals
Marriage proposals
Party invites
Bridesmaid Gifts
The list goes on and on and the new possibilities for were this can lead are endless. I hope that this business brings nothing but happiness to all that unravel one of my creations, because making them really does bring me an incredible amount of joy and fulfillment.
I choose to sell on Etsy because of the support handmade community and I look forward to working with some amazing collaborators. Bashabaloo is a portmanteau of bash + hullabaloo, and my aim is to create an amazing spectacle, as well as a good time. For the Valentine's Day, I have been brainstorming up a few cute surprises for Bashabaloo, check out our etsy shop and favorite it to get shop updates and new item alerts.
xoxo
Katie
photos by Ariana Velazquez