Look Luxe for WAY Less
We all want to "look like a million bucks", but the truth is, less than 7% of the American population can literally pull that off.  Those of us in the other 93% can only aspire to owning a closet full of $200 t-shirts and $1600 pumps, but if you really evaluate the kind of money it would take to emulate exactly your favorite celeb, do you really WANT to spend that kind of money on clothing and accessories?
Take a second and consider this: do you want to own a whole house or only the closet? 
Personally, I like to eat, so I've come up with some simple ways we can all class up our wardrobes without sacrificing the grocery budget.
First, behaviors.  Did you know, you can make your favorite grey t-shirt or jersey maxi skirt look more expensive without even changing the way you wear it or blinging it out?
Here's how: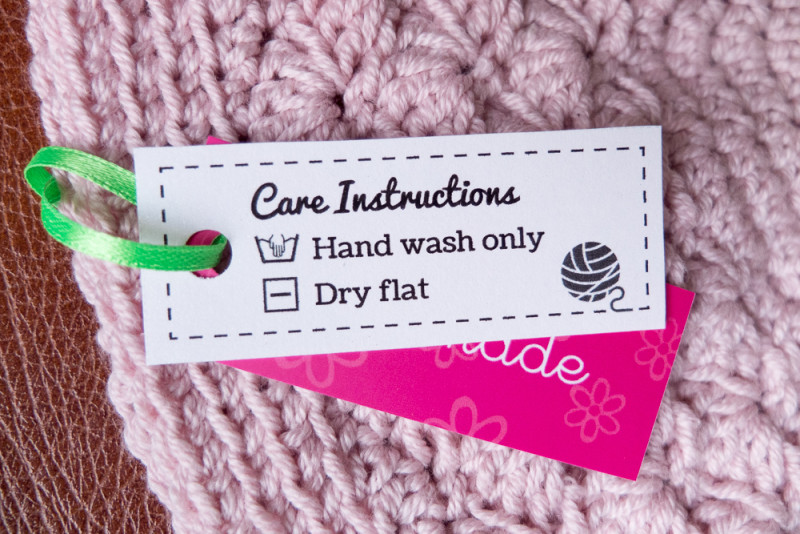 Read the instructions
Part of what makes less expensive clothing look less expensive faster is that we treat it like it's cheap.  You can help your beloved go-to t-shirt dress look fabulous for an entire season by simply following the washing instructions correctly.  Time-crunchers, like ourselves, so often toss as much as we can into the washer together, then toss the whole lot directly into the dryer.  Aack! By not applying the time to sort our laundry and hang or spread pieces that call for it, we have just shaved months off of the life of our favorite pieces.  Would you do that to a t-shirt dress that cost half your monthly pay?  Chances are good, that dress would be headed for the dry cleaner whether it called for it or not.  Point: If you show love to your inexpensive clothes, they will love you back.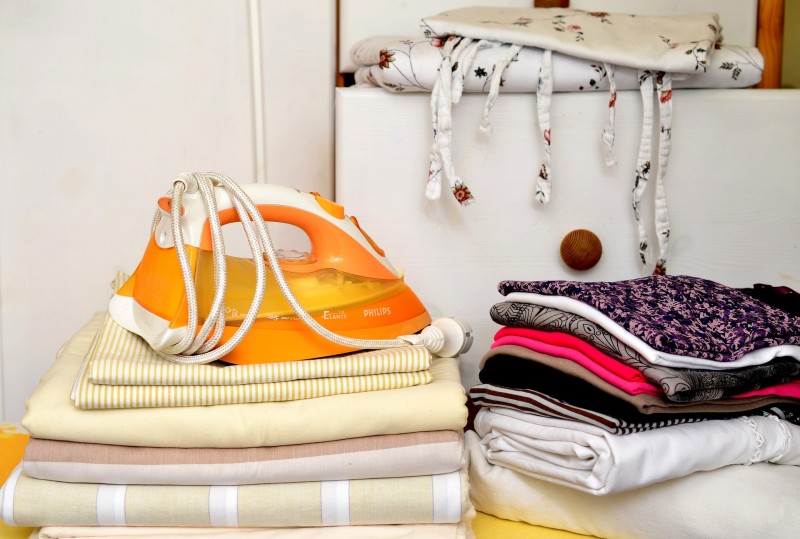 Bring the heat
Let me start with a basic introduction.  Busy person, meet your iron.  Iron, you may remember this busy gal or guy from when you were a gift from Mom on college move-in day.  Chances are good, the two of you haven't rendezvoused much since.  Let's change that.  When you effectively de-wrinkle your clothing, you immediately increase its street cred.  Consider this:  what do we love about budget busting ensembles?  They look put-together.  They were probably also sent to the cleaners for a press before they were even worn once.  Point: Take the time to iron each piece of your ensemble before wear, and you will be stunned at how much richer you look.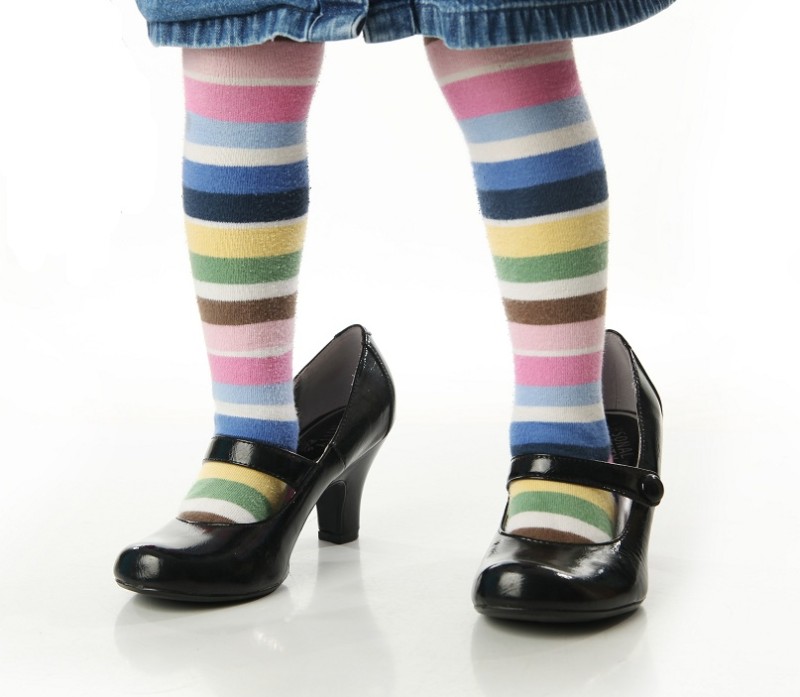 If the shoe doesn't fit, don't wear it
That goes for shirts, dresses, pants, skirts…you get the idea.  The biggest crime clothing-wearers commit that IMMEDIATELY devalues their look is wearing the wrong size.  Clothes that are too tight look cheap because they reveal our more negative body attributes rather than enhancing our positive ones.  Clothes that are too big look cheap because they don't allow the body to be the star of the look.  They hide everything.  Women and men who look expensive often aren't wearing incredibly expensive clothing – they are simply wearing the right sizes.*  Take an afternoon and try on everything in your closet.  If you consistently find that you are feeling cheap in your clothes, own the fact that you might be wearing the wrong size.  When you shop, don't pay attention to the number on the tag.  Try everything on, and gauge how you FEEL in each piece.  If you love something, but don't love the fit, go up or down a size and see if that changes things.  Also, remember that not all clothes are created for all body types.  Point:  In this case, size DOES and DOESN'T matter.  Wear clothes that fit – the number makes no difference.
**Many more expensive looking pieces have also been personally tailored.  If you simply LOVE a piece, but you just don't feel like it looks right on you, think about having it tailored to your shape.  It's often a matter of an extra $15-$20 – worth it if you will wear the piece frequently.
Now, we have addressed the very basic principles of looking sharp not shabby – let's get a little fancy without breaking the bank.  Here are some how-tos to help you give your less expensive looks some wattage.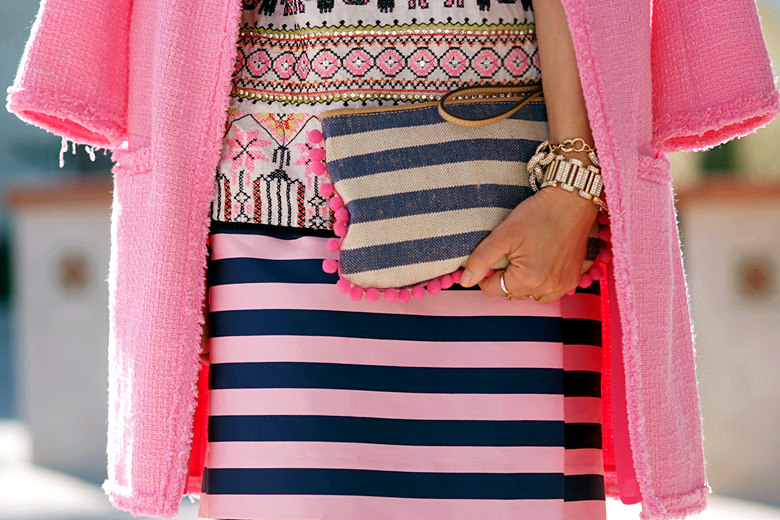 Think texturally
Mixing textures in your clothing choices is as important to your look as proper color-pairing.  Examples might be pairing a sweet, sleeveless silk top with your favorite PROPERLY-FITTING jeans or putting a plain fitted tee with a pair of wide-leg linen pants.  Think of your body as a canvas.  Use a variety of "mediums" to create a visually interesting statement while still maintaining a classic artfulness.  If you are suddenly feeling terrified, there is help!  All you have to do is search something like "ways to wear a grey t-shirt" on the web or visit Pinterest, and you'll get about a million ideas for how to pair your less expensive pieces with panache.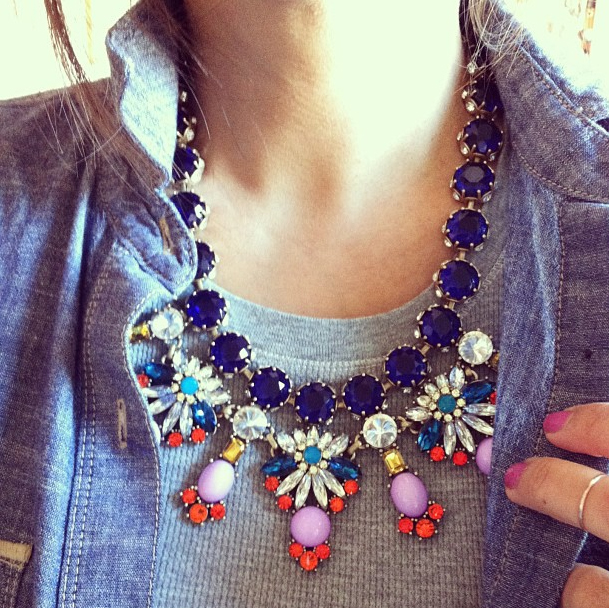 Bring the bling
 Here's the long and short of it: the right hint of sparkle will raise your ensemble's luxury level every time.  If you are going very simple with your outfit, think about chandalier earrings, a sparkly bib necklace or a highly embellished cuff.  If your clothes themselves are patterned or fairly detail-driven, think about a large pair of faux diamond studs or a string of faux pearls.  Sparkly studs are a must or every woman's jewelry case.  They can make just about any outfit feel a bit more special.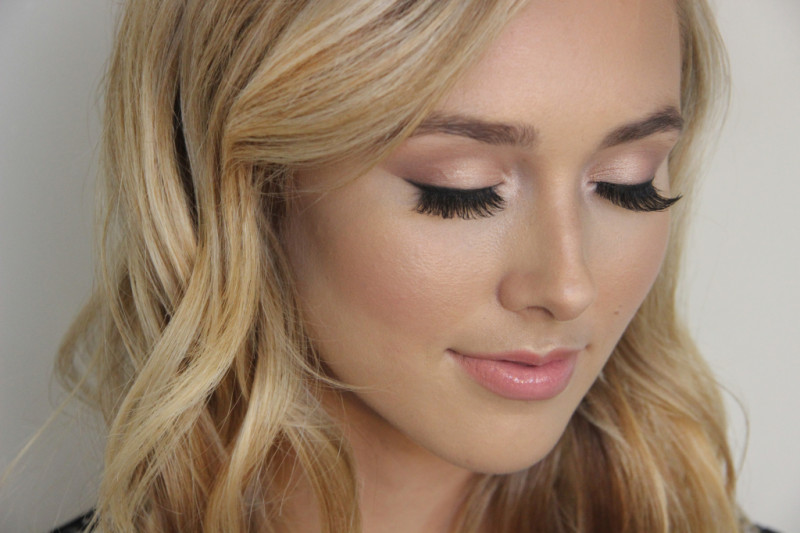 Wear your clothes.  Don't let them wear you.
Let's say you just brought home an adorable pair of sandals that didn't really cost much, but you are in love with their delicate straps and embellished heel bed.  Are you going to wear those out of the house with roughed up feet and chipped toe nail polish?  The easiest way to diminish the look of a piece is to fail to support it with the rest of your look.  Want to look luxe?  Hair and make-up are every bit as important as what you are wearing, and maintaining those can be extremely cost effective.  Mascara, properly manicured eyebrows and lip gloss can go a long way, and a good can of dry shampoo can make all the difference.  Remember, style is about showing the world who you are.  Expensive pieces mean very little if you don't care enough about yourself to take care of the most important part of your look – YOU!
Above all else, carry yourself with confidence.  There is nothing that says luxury and class more than a healthy coating of swagger.  When you feel good about you, the cost of your clothing means absolutely nothing.  So hold your head high, throw back your shoulders and strut whether you're sporting discount store trousers or a designer blouse.  Or both.
And, don't forget that iron.