We are heading out on our first big family vacation and one the most stressful parts of family travel happens before you ever leave home. Packing can be a process, as you want to make sure that you don't forget anything essential for the kids or yourself. Here's how I've tackled the process, feel free to use our handy family packing guide to make sure that you get these essentials into your bag:
Tablets
This is a great way to keep toddlers and older kids entertained on a flight or long car trips. I know theres a stigma surrounding giving your kid an iPad just to keep them quiet, but on long car rides it can definitely be a life saver.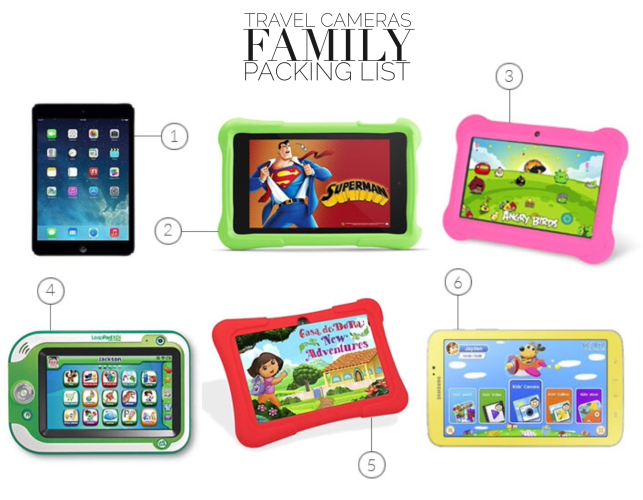 1. iPad mini / 2. Fire HD Kindle Edition / 3. Orbo Jr. 4GB Android / 4. LeapFrog LeapPad3 Kids' Learning Tablet / 5.  Dragon Touch 7 / 6. Samsung Galaxy 3 
Toys
Bring along some small, inexpensive toys that you won't mind losing along the way. It's a good idea to choose small items that will keep the little ones occupied in the car, the plane and in the hotel. Of course I recommend our Surprise Ball that add to endless entertainment!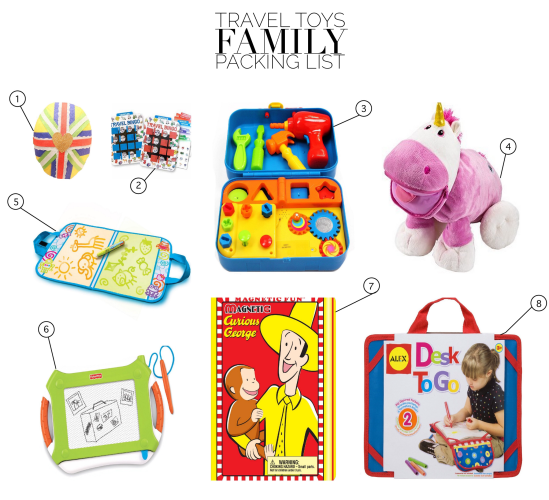 1. Surprise Ball / 2. Melissa & Doug Flip to Win Bingo / 3. Kidoozie Cool Tools Activity Set / 4. Stuffies Prancine the Unicorn / 5. AquaDoodle Set / 6. Fisher-Price Travel Doodler Pro / 7. Curious George Magnetic Set /  8. ALEX Toys Artist Studio Desk To Go 
Carrier or Sling
Ideal for infants and toddlers, a carrier will allow you to move through the airport with ease. It's also great when you get to your destination and are sight-seeing and exploring.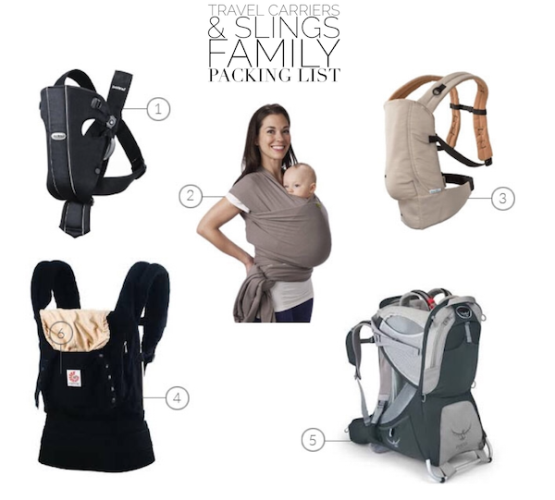 1. BABYBJORN Baby Carrier Original / 2. Boba Baby Wrap / 3. Evenflo Natural Fit Soft Carrier / 4.  Ergobaby Original Baby Carrier / 5. Osprey Packs Poco  
Snacks
Whether you're traveling by air or hitting the road, you'll want to have some easy to grab snacks packed up for the journey. Make sure all snacks are tightly sealed and in placed in room temp storage! No one likes melted snacks 😉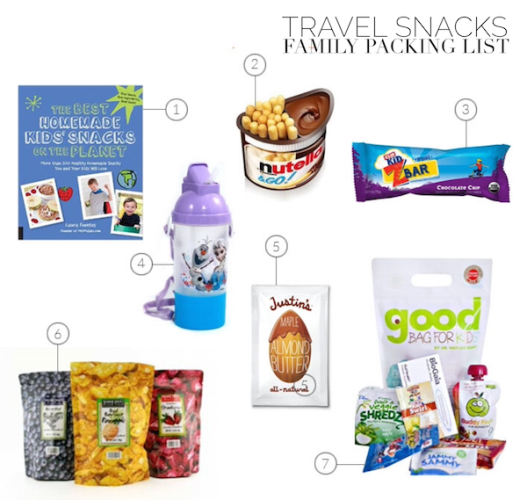 1. The Best Homemade Kids' Snacks on the Planet Book / 2. Nutella and GO! Snack / 3. CLIF Kid ZBAR  / 4. Disney Rock N Sip N Snack Canteen Water Bottle for Kids / 5. Justin's Almond Butter / 6. Trader Joe's Freeze Dried Fruit Assortment / 7. GOOD Bag of Kid's Snacks
Light Blanket
Pack a light blanket that you can easily pull out in case your child gets chilly. This is a must have on airplanes, as they tend to get cold at times. A familiar blanket can help when your sleeping away from home or traveling to a far away place.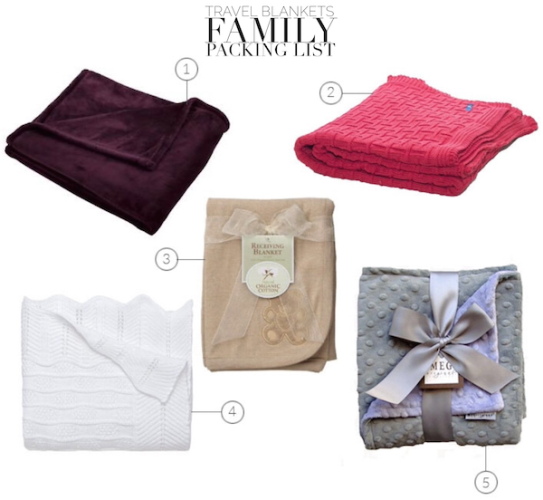 1. Pinzon Velvet Plush Blanket / 2. Wallaboo Baby Blanket Eden / 3. American Baby Company Organic Embroidered Receiving Blanket / 4. Fancy Knit Blanket with Wide Ribbed Border / 5. MEG Original Lavender & Gray Minky Dot Baby Girl Blanket
Diaper Disposal Bags
If you have a little one still in diapers, bring disposal bags. You'll appreciate having them on the plane and in the hotel (and so will everyone else around you!).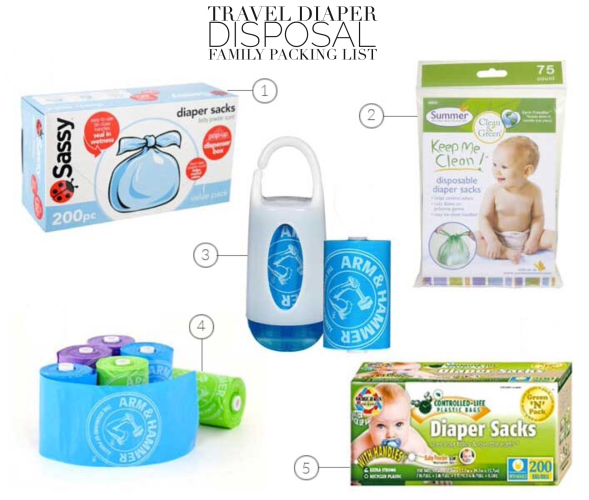 1. Sassy Baby Disposable Diaper Sacks / 2. Summer Infant Keep Me Clean Disposable Diaper Sacks / 3. Munchkin Arm and Hammer Diaper Bag Dispenser / 4. Munchkin Arm and HammerDiaper Bag Refills / 5. Green N Pack Easy-Tie Scented Baby Diaper Sacks
Jackets
Even if you're traveling in warm temperatures, it's still a good idea to have a jacket. Bring one for everyone in the family in case the evenings are cool or the weather turns rainy.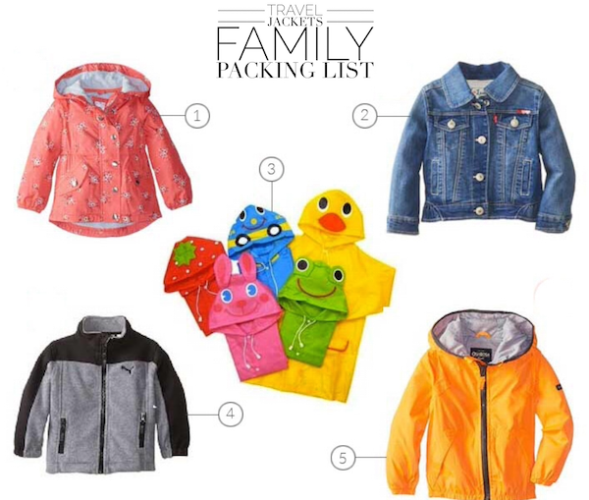 1. Carter's Little Girls' Printed Fleece Lined Jacket Toddler / 2. Levi's Baby-Girls Infant Dianna Denim Jacket / 3. Hooded Rain Coat Raincoat Jacket / 4. PUMA Little Boys' Polar Fleece Jacket Toddler / 5.  Osh Kosh Little Boys' Solid Windbreaker
Camera
Finally, don't forget your camera so that you can capture all of those fun family memories. While you may have your fancy iPhone or SLR, giving your little ones something of their own to point and shoot can allow you to see your trip from their eyes!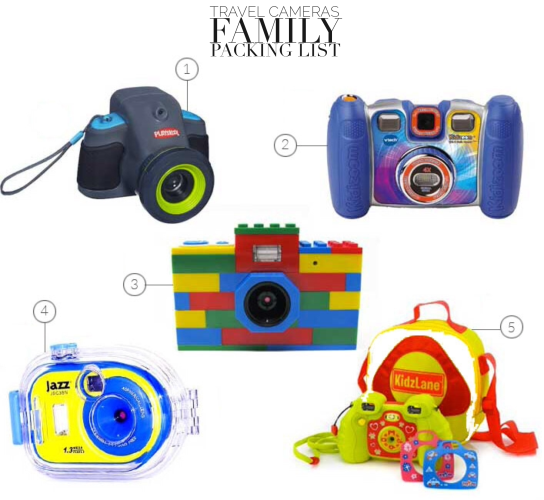 1. Playskool Showcam 2-in-1 Digital Camera and Projector / 2. VTech Kidizoom Spin & Smile Camera / 3. LEGO 8MP Digital Camera / 4. Jazz JDC38W Waterproof 1.3MP Digital Flash Camera / 5. 5 in 1 Kids Digital Camera