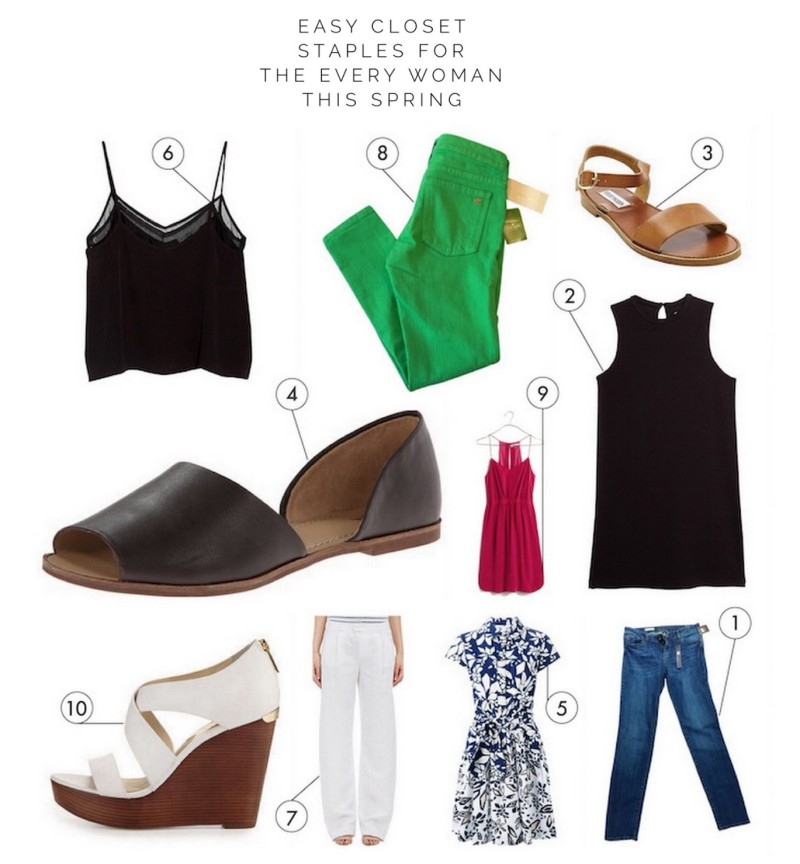 The seasons are changing, and instead of getting outdoors and enjoying the sunshine and milder temperatures, you may find yourself standing in front of your closet stressing over your spring and summer wardrobe.  How on earth can you possibly enjoy outdoor activities without the proper attire?
First of all, there's no need to fret.  Sunshine makes everyone look better, so you've already got that going for you.  But, if you're looking to look good all spring and summer long without breaking the bank, here are 10 pieces worth your investment.  They'll pay you back by lessening your style stress.
If you're thinking to yourself, "okay, but there is an alarming lack of color in this scheme…", you're right.  These are your basics.  If you needed to, you could get away with just this, but here is where accessories come into play.  You can mix and match almost all of these pieces (you can even wear a shift dress over cropped pants) and then add fun jewelry, scarves and hair pieces, all of which are much more cost effective than buying multiple pieces that can only be worn one way.  Giant cuff bracelets, bib necklaces, summer scarves and fun, 60s inspired headbands are all very in the season, so get creative.
And, finally, if you're looking for trend inspiration, let the garden be your guide this summer.  Florals, wildlife prints and lace are all perfect staple pieces, so channel your inner green thumb and celebrate the sunshine!