As a home cook, I know that having the right tools in the kitchen can make all the difference. That's why I've compiled a list of my top 9 kitchen essentials that I've purchased on Amazon. These products have helped me elevate my cooking game and make my time in the kitchen more efficient and enjoyable.
These pasta bowls are perfect for serving up a big batch of your favorite pasta dish. They have a 26 oz capacity and are made of high-quality porcelain that's dishwasher and microwave safe. The Ceylon blue color is a beautiful addition to any table setting.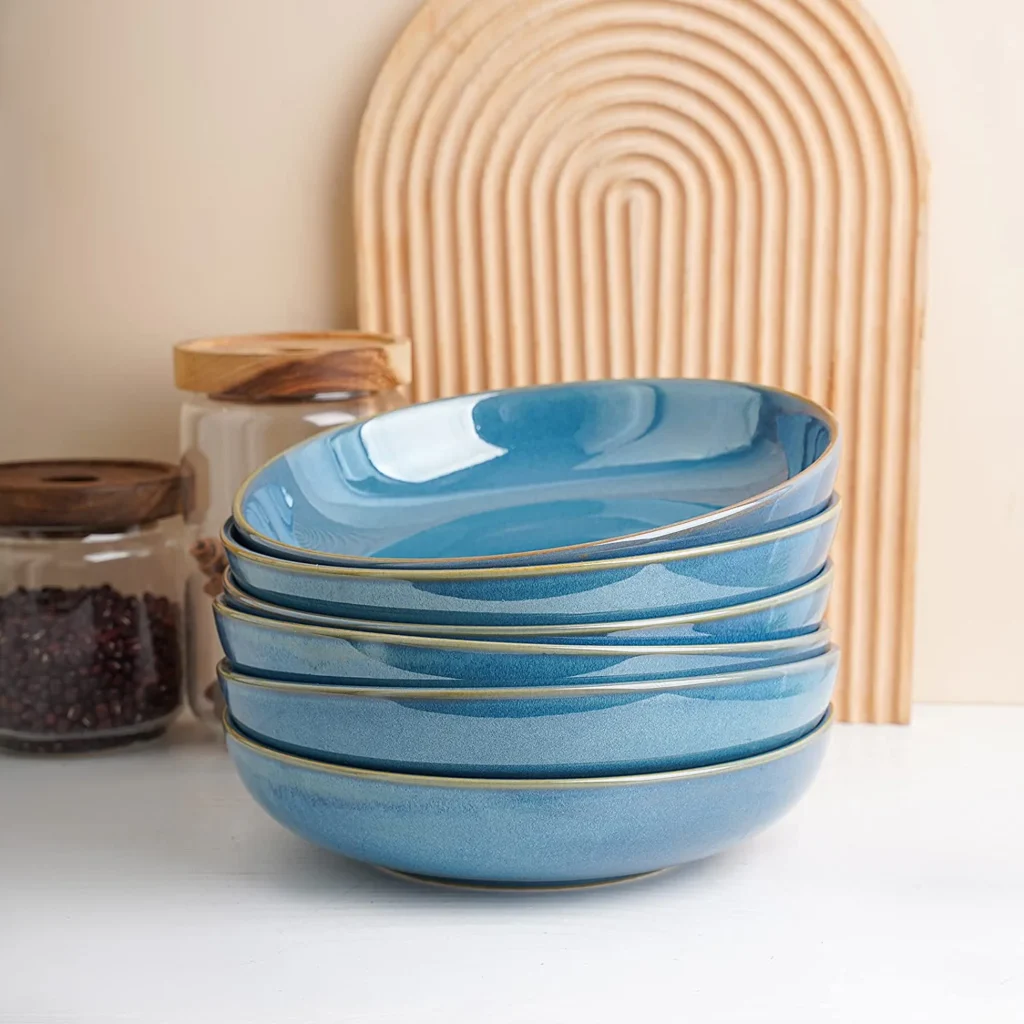 This cutting board is perfect for any home cook. It's extra large, measuring 30 x 20 inches, so you'll have plenty of space to chop and prep your ingredients. It's also versatile enough to be used as a stove top cover, a noodle board, or a BBQ cutting board. Plus, it's made of bamboo, which is gentle on knives and eco-friendly.
This electric can opener makes it easy to open cans with the simple push of a button. It has a smooth edge design that prevents sharp edges on the can, and it's food-safe and easy to clean. It's also battery operated, so you can take it with you wherever you go.
This utensil set includes everything you need for cooking and serving, including a slotted spoon, a solid spoon, a flat spatula, a curved spatula, and a fork. They're made of bamboo, which is gentle on nonstick cookware and eco-friendly. These utensils make a great housewarming gift.
Nespresso Vertuo Coffee and Espresso Machine by Breville
This coffee and espresso machine is a must-have for any coffee lover. It uses Nespresso's Vertuo technology to brew a perfect cup of coffee or espresso every time, and it has a sleek chrome design that will fit in any kitchen.
This multi-cooker is a game changer in the kitchen. It can function as a pressure cooker, slow cooker, rice cooker, steamer, sauté pan, yogurt maker, and more. I use it at least once a week to cook grains, beans, soups, and stews, and it always produces perfect results.
Every kitchen needs a good cast-iron skillet, and the Lodge brand is my personal favorite. It's pre-seasoned and ready to use right out of the box, and it's perfect for everything from searing steak to baking cornbread.
This four-sided grater is a must-have for any home cook. It has a fine grater side for cheese and citrus, a medium grater side for vegetables, a coarse grater side for potatoes and carrots, and a slicing side for tomatoes and onions. It's a versatile tool that saves time and space in the kitchen.
A hand mixer is a handy tool to have in the kitchen, and the KitchenAid brand is a trusted name. This one has five speeds, a comfortable grip, and attachments for mixing, whisking, and beating.