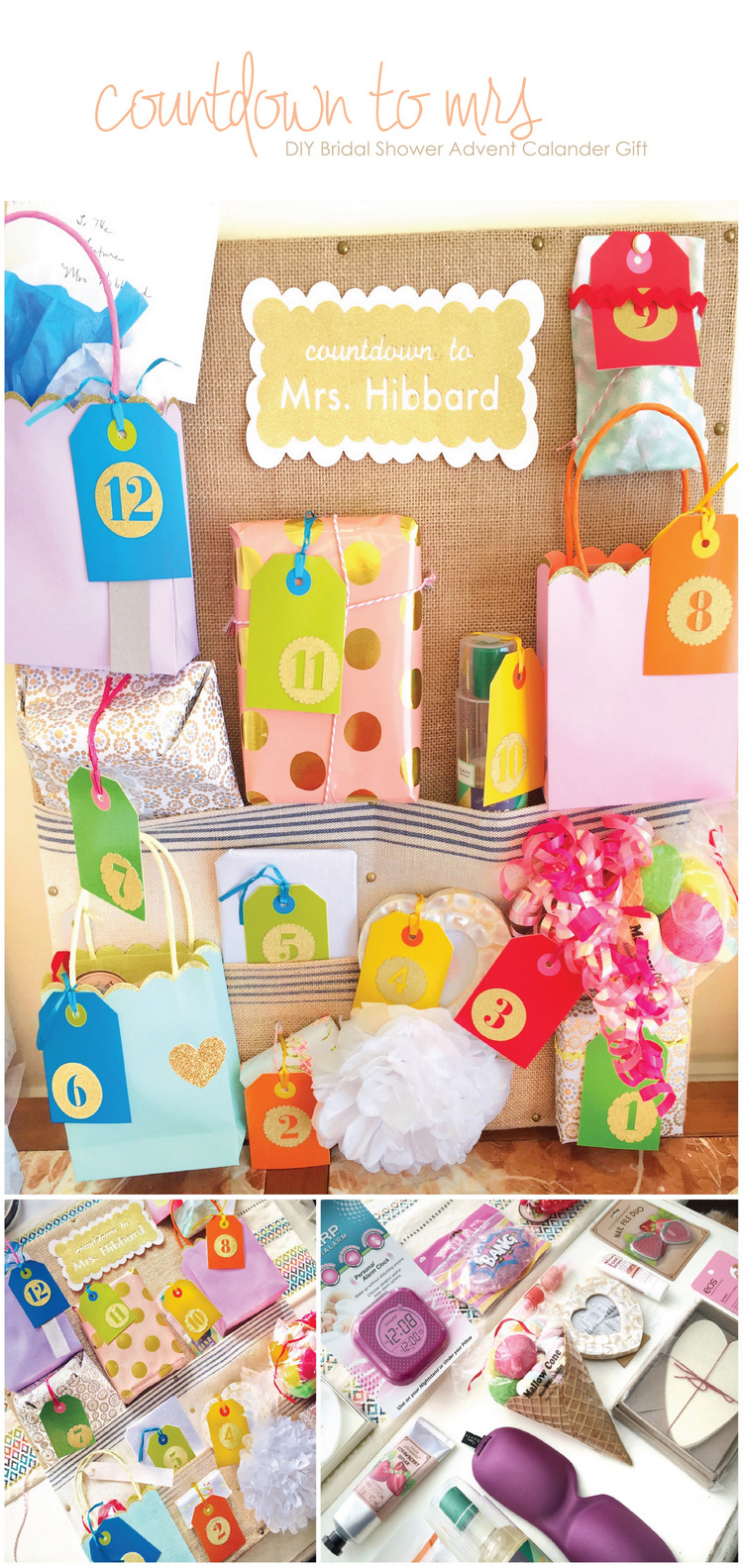 I've got this thing about gifts, maybe it's because I give gifts for a living, but I always want to give something that's unexpected and sentimental – something to last, something that can keep giving! And then it hit me – Advent calendars aren't just for Christmas anymore. Think about it… weddings to some, are just as big of a deal as Christmas morning (except with a ton more presents). Hence the need for a very important Countdown to Mrs Advent Calendar.
Sure, you can browse and buy something off their registry, but what's the fun in that? I say, carefully curate 12 mini gifts that can inspire, relax and excited the bride for her big day. After a bunch of pinning, I found some inspiration (this post in particular), and then played with a couple concepts myself.
What you'll need:
Padded burlap board (if you pick one with layers like the one I used you can tuck a couple gifts without a lot of reinforcement)
Hot glue gun
Staple Gun
Gift tags (I made the numbers on my Silhouette)
Count down sign (I made on my Silhouette)
Wrapping paper (the more variety the better!)
Baker's Twine and ribbon to secure the gifts
Directions:
BEFORE YOU WRAP! Lay out all your gifts on the burlap board and take a photo of the placement for safe keeping (once you start securing the gifts on the board you will be moving around the gifts quite a bit). Uniquely wrap your mini gifts. I suggest you pick a color scheme and have fun with it. Lay out the gifts again, and if you're happy with how everything looks wrapped up,  start stapling baby! Try to hide your staples being big bows and tissue paper and when you can, glue gun the small items.
Here's what I picked out for the 12 days of gifts, and some fun notes I included for the bride!
Day 12: Sleeping mask and cooling pack for lots of sleep
Tag Note: "Make sure you get your beauty sleep, your getting MARRIED in 12 days!"
Day 11: Love notes
Tag Note: "Emails are too easy, put your pens to paper and gush over each other for the next 11 days!"
Day 10: WINE FOR ONE
Tag Note: "By now you are getting a splitting stress headache about seating charts and center pieces – I prescribe you this heaping glass of wine to take the edge off!"
Day 9: Lip balm
Tag Note: "Pucker up lady, your lips are going to be getting a lot of action in 9 days, aka your wedding day!"
Day 8: Nail Polish and Hand Cream
Tag Note: "Details details! We want a lot of close ups of that ring, so use this for the next 8 days to make your hands all kinds of pretty."
Day 7: Vibrating alarm clock
Tag Note: "SHHHHHH! By now you have stepped up your workouts because you're getting married in 7 days… but do your fiancé a favor and let him SLEEP IN!"
Day 6: Sugar scrub, bath salts and foot repair cream
Tag Note: "It's time for a nice long bath —— this is officially the calm before the storm, take a moment to block out the rest of the world and SOAK up the quiet!"
Day 5: Starbucks gift card
Tag Note: "Ok it's crunch time, time for a triple expresso americano"
Day 4: Heart picture frame
Tag Note: "You have a lot of photos coming your way, put one of your favorites in here"
Day 3: Marshmallow treat
Tag Note: "Pssst you're getting married in 3 days!!! Eat a sweet treat to celebrate"
Day 2: Mr & Mrs ring dish
Tag Note: "In 2 days you get to add another ring to the mix, here's a special spot for them to rest"
Day 1: Breath mints
Tag Note: "Hey you're getting married tomorrow, and I'll be clinking my glass all night for you, make sure your breath game is FRESH. LOVE YOU!"