10 Simple to Stylish Boho Chic Design Tips
Summer is the perfect time to give your living space a makeover, especially if you are finding that the heat is driving your family indoors more often than you might like.  With that in mind, I'm suddenly completely taken with Justina Blakeney's new book, The New Bohemians, Cool and Collected Homes.  It's inspiring me to channel a Bohemian vibe that relaxes a room, while maintaining style even when summer soirees and travel are keeping you on your toes.  Boho is about adding personality to your space without pretension, and you can do it easily with these 10 steps: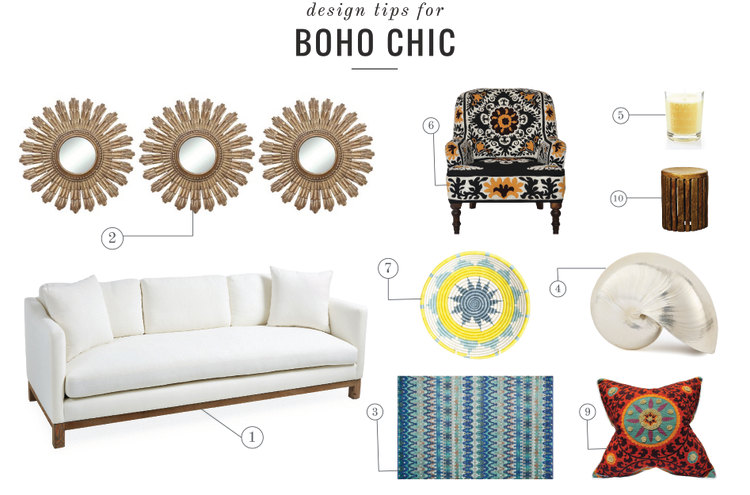 Begin with the Basics.  Whether you are trying to create the perfect living space for conversation or relaxation, your sitting pieces should be your first consideration.  Sofas, chairs and loungers are what make your guests, or even your kids, feel at home.  I love this Cara Linen Sofa in white because it gives a wink and nudge to the mid-century modern design style that can be very formal or very relaxed while still offering a blank canvas for pops of colors by way of throws and pillows.
Maximize natural light.  Bohemian design mixes vintage with global, and both are best served with the use of natural light.  Even if you only have one or two windows in your space, you can enhance their impact by positioning mirrors on opposite walls to reflect back the light your are getting from outdoors.  This set of three Sunburst Mirrors is a great choice because you can position them however you like, and they aren't overwhelming.  Plus, the sunburst works perfectly with the mid-century modern sofa you just chose.
Create a color story.  Designing a room is a lot like writing your family's story.  You incorporate pieces that are functional, beautiful and nostalgic all in one place.  Inevitably, those pieces are not going to go together naturally which is why a color "through line" will allow you to tie them into the grand scheme.  Examine your space and ask yourself what color would best accent all of your pieces.  Consider also the feel you want the room to have: energized, relaxed, totally zen, etc.  I love teals and soft blues for a Bohemian space, and this Porter Rug in blue hues works perfectly to set the stage for a serene setting.
Accent your color story with applicable details.  If you love ocean inspired colors like I do, then a piece like this Silver-plated Nautilus Shell would be a perfect accent in your design.  It helps communicate your story without overwhelming your space in a wash of aqua.  This Large Hope Basket hung on a wall speaks of far off places with soft, warm breezes and ukelele music.  Always consider your story when accenting.
When the lights go down, think candles.  When positioning candles in your space, think about creating "vignettes" within your living area.  If you love to read, group candles around a favorite chair.  If you want to build a romantic vibe into your bedroom, layer candles on small shelves above your headboard.  Pur candles are a fabulous choice because they have a contemporary design, and the fragrances are authentic.  Choose fresh verbena to bring the outdoors in.
Think big now and then.  Bringing color and pattern into your space through furniture can be risky, so if you are going to go that route, plan around your piece by accenting with some neutral pieces.  I would make the leap into pattern with this Ellie Embroidered Armchair without a second thought.  The design is both American retro and Global all at once, and the color scheme works perfectly with chestnut or teak accents.
Get artsy.  Choosing art to draw Bohemia into your space is the easiest and often most cost effective way to transform a room.  Think about your color story when selecting art, but make sure the piece you choose speaks to you as well.  I love "Saltine" by Lulu DK because the lines are both modern and tropical, and the white wooden frame gives an island vibe.  If you have a colored accent wall, this piece will be an excellent stand-out.
Think about an accent wall.  Let's revisit that color story again.  If you simple love blue, consider choosing one wall to sport your favorite hue.  If you do, choosing a more neutral rug and sofa might be a necessary consideration, but there's often no better feeling than being enveloped in a color that makes you happy.
Accent your accents.  When considering your color story, remember that sometimes the best way to enhance your chroma is to stray as far away from it as possible.  If you love blues and aquas and have incorporated a neutral sofa, think about a throw pillow like this Tribal Sunset Cotton Pillow in red.  Perfect for tossing in the center of your classic sofa or in a neutral, over-stuffed chair, this sort of pillow is eye-catching but not overwhelming.  Because it is in an opposite hue from your color story, your prevalent color will feel even more natural and easy.
You'll need a place to set your drink.  Don't forget to incorporate "surfaces" into your space.  Choose pieces that are functional but contribute to your story just like your accents.  I love this Combi Round Side Table because it is has a tribal feel, but it would work well with a classic nautical vibe or a modern design as well.  Choosing versatile pieces in woodgrains can be a great way to give yourself some design flexibility in the future.
Making Boho work for you really comes down to considering your needs and the story you want your room to tell.  Taking a moment to meditate in your space can help open up your channels of creativity, and there is nothing more Bohemian that that!